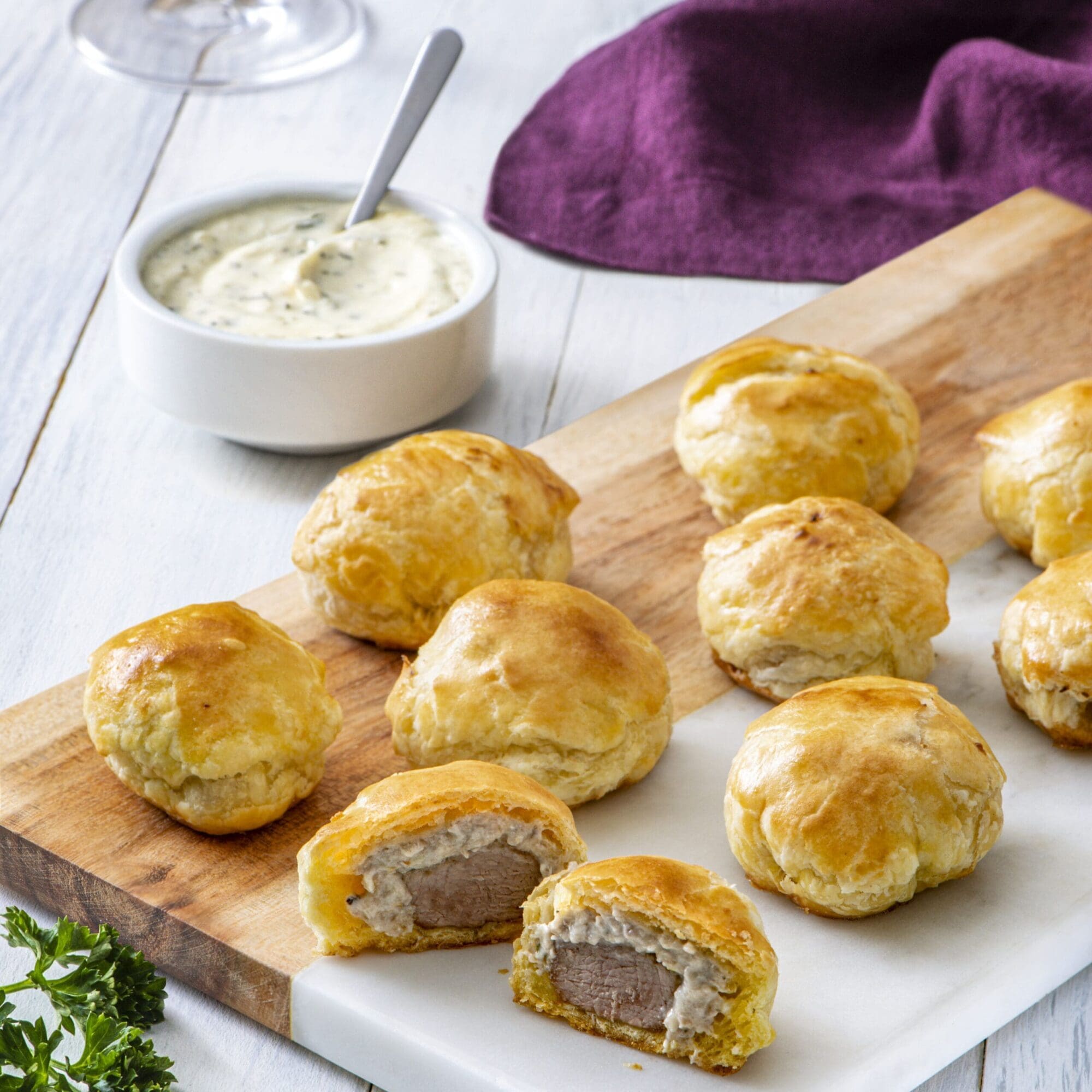 Beverage Pairings
Pairs well with a Cabernet or full bodied Merlot.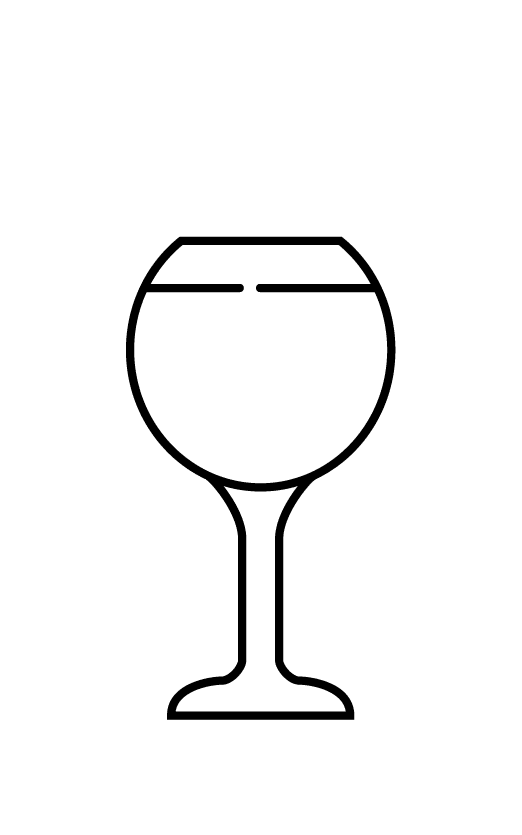 Appetizers
Mini Lamb Wellington
Featuring Stonemill® Kitchens Garlic & Herb Feta Dip
---
Elegant and satisfying, this appetizer is sure to impress your guests.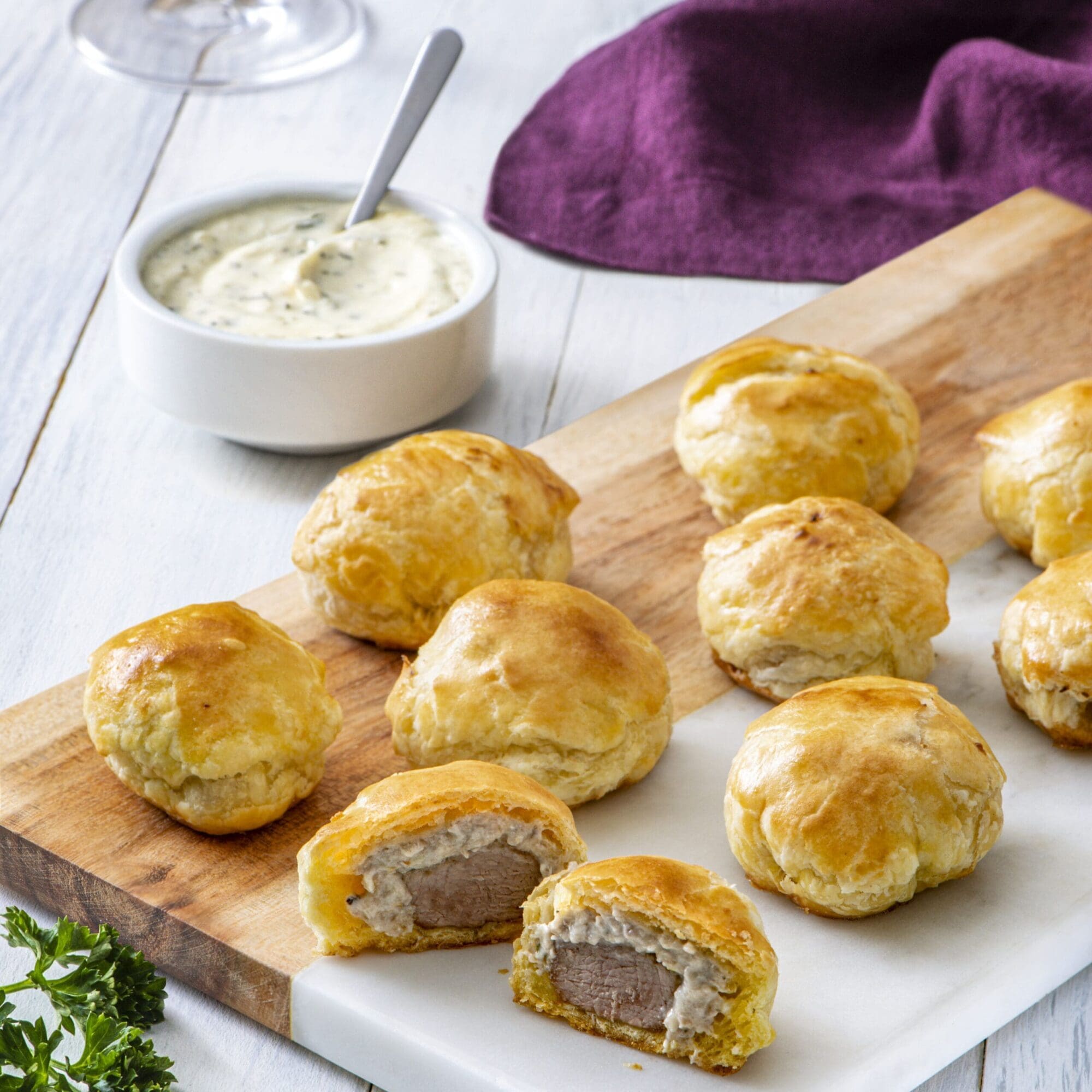 Total Time: 2 hours, 15 minutes
Prep Time: 1 hour
Cook Time: 1 hour, 15 minutes
Ingredients
1 ½‑2 lbs. lamb stew meat, diced
2 tbsp. oil
3 cups water
1 cup sherry wine
½ cup shallots, minced
1/2 lb. mushrooms, minced
2 lbs. puff pastry, thawed (measuring approximately 18 x 13 inches)
2 eggs, beaten
3 tbsp. water
2 packages Stonemill Kitchens Garlic & Herb Feta Dip
Directions
Heat braising pan to high heat, add oil. When oil starts to smoke, add lamb meat. Brown all sides well. Add the sherry wine and water, bring to boil, them simmer until meat is close to tender. Add water as needed if liquid evaporates too much.
Finely mince the shallots and mushrooms with a food processer or knife.
Once lamb is almost tender, about 25‑30 minutes, remove from pot and set aside to cool.
Add the shallot and mushroom mix to the pot. Cook until the mixture is almost dry. After cooking, place in a container and let cool in the refrigerator.
After cooling, mix in one 10 oz. package of the Stonemill Kitchens Garlic & Herb Feta Dip.
In a small bowl, beat eggs and water.
Lay puff pastry sheets on counter or cutting board. Cut 2 ½‑inch squares, enough to match the number of pieces of lamb.
Preheat oven to 375° F.
For assembly, brush the dough with the egg wash, add a teaspoon of the mushroom mix, then place a piece of lamb in the center.
Gently enclose the filling and pinch off the seams. Form into a small ball. Place on a nonstick sheet pan with half‑inch spacing. Brush the tops with egg wash.
Place in oven and cook until golden brown, approximately 20‑25 minutes. After cooking, remove from oven and let rest for 5‑10 minutes before serving.
Serve with remaining dip.